Hits: 13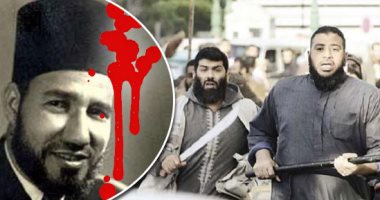 70 years have passed since the death of the founder of the Muslim Brotherhood Hassan al-Banna, which the group considered a saint and reached to the ranks of the prophets, according to the testimony of dissident leaders of the organization, at the time revealed the truth of this group, in addition to the special organization launched by Hassan al-Banna, .
Before the assassination of Hassan al-Banna, the organization carried out a series of bombings and political assassinations, headed by the assassination of al-Nuqrashi Pasha, who took the decision to ban the Muslim Brotherhood. The assassination of Judge Khazandar, who was considering a number of issues related to the Brotherhood, Where he was disguised in the uniform of a police officer, and greeted Nqrashi and then shot him 3 bullets in the back, and was then arrested.
In the era of Hasan al-Banna, the group carried out many acts of violence. A group of the Muslim Brotherhood attacked their opponents, who shot them, killing one of them in the area of ​​Koum al-Nur, the center of Mit Ghamr Dakahlia, and blowing up the shops of Shikorel and Aureku, Some houses in the Jewish Quarter and the destruction of the Benzayoun and Gatineau shops.
According to Tharwat al-Kharabawi, a former leader of the Muslim Brotherhood, in his book "The Secret of the Temple 2," he revealed that Hasan al-Banna, the founder of the terrorist group, was not Egyptian and his grandfather was a nomadic man coming from Morocco. The Hassan al-Banna family had no graves in the village of Shamshira, That he belonged to it, also confirmed that the founder of the group was a founding friend of "the devil", Alastair Crowley since 1927 when they met the book house.
It did not stop at this point, Hassan al-Banna had a relationship with the Masonic associations, where he had a relationship with the Masonic Forum in Paris, who paid the establishment of the establishment of the Brotherhood was the director of the Suez Canal company then French Louis Antoine, who was president of the Masonic Forum in Paris, The first amount Hassan al-Banna received from the head of the Masonic shop in Paris was LE 500, and the money paid to Hassan al-Banna was fixed by the company, not the only 500 pounds Hassan al-Banna received, but large sums were checks in French.
Seventy years after Hassan al-Banna's death, the Brotherhood is in a state of great disintegration, with the fall of their project in the Middle East, the increasing losses it receives, the scandals spreading from within the Muslim Brotherhood, and the growing crisis of schisms that it is constantly experiencing.