Hits: 47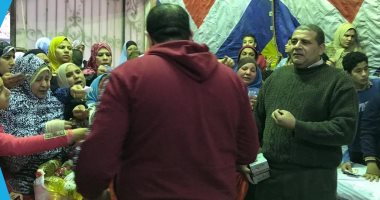 On Saturday, the Secretariat of the Future Party of Watan carried out a number of activities and activities to serve citizens in various governorates of Egypt. The party secretariat in Cairo governorate organized a football sports course at Al-Basateen Youth Center with the participation of 15 teams that lasted for one week.
The party's secretariat in Gharbia governorate also organized a medical convoy to detect eye patients, perform tests and radiation, and dispense the necessary drugs in the village of Dimtno in the center of Mahalla.
The Future Party of Watan in Suez Governorate launched a mobile outlet for the sale of foodstuffs at low prices in the areas of "strange, sorting and zebber" to alleviate the burdens faced by the simple citizen. The party's secretariat in South Sinai also organized a four- .
A veterinary convoy visited the village of Al-Dhahiriya in Ismailia to provide necessary consultation and prevention of livestock diseases, as well as the establishment of an educational seminar for the management of small projects at the party headquarters in the presence of nearly 40 people.
On the other hand, the party's secretariat in Fayoum governorate organized a football tournament in the youth center of Sinnouris with the participation of 18 teams and extended for about a week. The party's secretariat in Beni Suef governorate also launched a medical convoy in Koum Abu Radi area.